Monsoon Ethnics
MAKE ROOM FOR ETHNIC WEAR IN MONSOON :
Every season brings along with itself something new and exciting. Talking about the monsoon, everyone in the Indian subcontinent gets excited about the welcome relief from the scorching heat.
Hi, This is Sanya , your Personal Stylist. Today, I will be sharing small tips on what ethnics you should be wearing in the Monsoon season.
Monsoon Women's Fashion Styles :
1. Suits & Kurtis
No weather is unsuitable to wear suits and kurtis but you can certainly modify the kind of styles, fabrics, and silhouettes you want to wear in monsoons.
As the air is more humid, you would want to go with more lightweight and airy fabrics and cotton is undoubtedly the best choice as it doesn't stick to your body, unlike any synthetic or poly fabrics.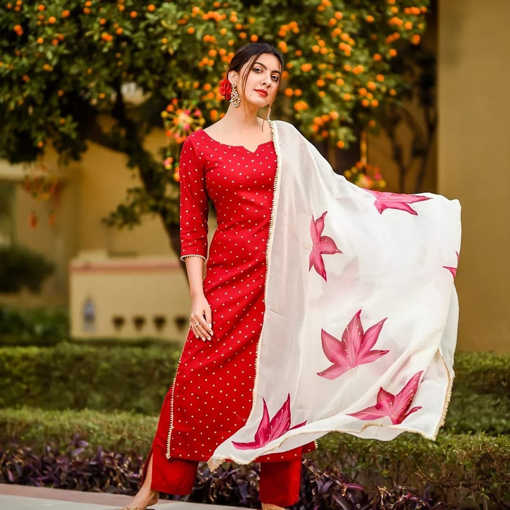 So, if you are looking for long kurtis, this is the perfect size for monsoons as it is below the knees but not floor-length.
2. Monsoon Style Dresses
You can have such fun with your monsoon dresses. You can go for all sorts of bright and pastel colours. Of course, avoid white and bodycon dresses during the rains to avoid discomfort.
This abstract print midi from our dresses collection is all things fun. The collar neck makes it perfect for workwear as well as casual outings and those gathers on the side and back will give you a flattering look while keeping you comfortable all day long.
3. Sarees
If you are someone who loves sarees as much as we do, you wouldn't want to miss wearing it in any season. Mulmul cotton sarees are our absolutely go to for summers and monsoons.
This is a statement saree with a unique pattern and stunning colour that you would want to flaunt this season.
You can also go for abstract patterns and polka dot sarees like these to play with in summers.
A pro hack that we swear by - wear the pallu like a scarf and tie a belt around the waist to ensure better functionality and hassle-free frolicking.
4. Scarves
Elevate your monsoon styling with dainty scarves that you can wear with kurtis, tops, tunics, and dresses.
If you are wearing any solid colours, adding a printed and colored scarf can just amp up your overall look.